Bear River High School
Class Of 1962
In Memory
Joan Capener (Peck)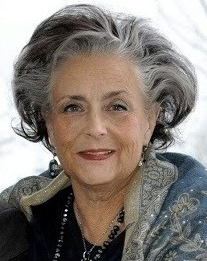 Joan Capener Peck
Long-time Farmington resident, Joan Capener Peck born at Logan, Utah, May 23, 1944, to Garn and Melba Capener of Garland, Utah, and married to Earl Jay Peck September 16, 1966, in the Logan Temple passed away suddenly on Friday, September 30, 2016 of cardio-pulmonary arrest. Joan is survived by her husband (Jay) her brother Brent Capener (Laurie) and four children: Jennifer Jill Beardall (David), Jared Garn Peck (Emily), Jessica Joan Swenson (Paul) and Elizabeth Jayne Braithwaite (Garrett) and eight grandchildren: Johnathan, Hyrum, Enoch, Joseph, Lydia, James, Hannah and Lucy. She was preceded in death by her parents and granddaughter Hope Pascale Beardall.
Joan graduated from Bear River High School in 1962 and went on to study interior design at Utah State University. As a child Joan spent a great amount of time in Island Park, Idaho, and loved to fish. After her marriage she supported her husband as he attended university by working for Zink's Sporting Goods where she worked as manager of the fishing department. It was not unusual back then for a customer with a technical question to say, "Oh, I would rather have a man wait on me"-- whereupon she would introduce the customer to one of the male sales persons. If the man could not answer the customer's question, he would say, "Let me ask the manager." Joan knew fishing.
Joan suffered a devastating illness in 1987 which left her a double, bilateral amputee and in near-constant pain. Nevertheless, she loved being a mom and a grandma. She was so grateful that her life had been spared so she could continue to raise her children. Joan loved to build rock walls and ponds in her large backyard with the help of beloved neighbor children. She delighted in planting, dividing and transplanting flowers and other plants. She loved God's nature and spent the last week of her life with Jay in Teton and Yellowstone Parks enjoying the animals and the fall foliage as part of their 50th wedding anniversary celebration.
Joan was an artist. She saw a beautiful world and shared her vision of beauty with others. She designed her own home. She painted and drew. She produced many fine-crafted works of needlepoint. She made beautiful jewelry. She collected fine art, china, silver serving pieces and crystal. She rescued dilapidated furniture pieces and turned them into works of art. She sewed doll clothes and much of her own clothing. Everything she made had a story behind it that she would share, so that others would also appreciate the beauty around them. When asked how she passed the time given her physical limitations, she replied that there were still many things that she wanted to do that she did not have time for.
Joan served in Church genealogy and successfully converted hundreds of thousands of hand-written records to digital entries. She loved her primary children and they loved her. Joan served the Lord as a missionary for the Church of Jesus Christ of Latter-day Saints from 2013 to 2015 at the Preston Temple in England and supported the Blackburn Ward. Joan cherished and loved her friends and co-workers at the temple, the Saints of the Blackburn Ward, and the various Lady Missionaries who lived across the hall. Her great desire was to serve a second mission. At the time of her death she was a volunteer at the Bountiful Temple.
Physically, Joan was elegant and beautiful. Emotionally, she was strong having endured hardships and pain with grace. Spiritually, Joan had a gift to help others in pain. The wounded would seek her out and medical personnel would ask her to visit one-on-one with the struggling. She lifted up the hands that hung down. She strengthened the feeble knees. She was a healer. Joan loved her Savior and had a testimony of His saving Gospel.
She loves her family and they love her. Joanie, Mom and Grandma we miss you.
Funeral services will be held Thursday, October 6, 2016 at 11 a.m. at the Somerset Chapel, 1885 N. Summer Wood Drive, Farmington, UT where friends may visit with the family on Wednesday from 5:30 to 8 p.m. and Thursday from 9:30 to 10:30 a.m.
Services entrusted to Lindquist's Layton Mortuary, 1867 N. Fairfield Rd.